Second Opinions About Chronic Pain Treatment
3 Reasons to Get A Second Opinion:
1)  Confirm the Diagnosis – a 2011 study revealed that 47 percent of physicians surveyed have found diagnostic errors occurring in their practice at least monthly.  The same study found that 64 percent of the doctors said that up to 10 percent of the misdiagnosis have directly resulted in patient harm(1).
Diagnosing a medical condition is part art and part science. It's not as simple as inputting the symptoms into a computer to get the correct answer. There's an art to asking the right questions and then using experience and judgment to determine the proper diagnosis. But even then, there are times when the best doctors can look at the same medical file and diagnose two different conditions, with two very different courses of treatment.
Before you begin a care plan, you need to feel confident that you've gotten a correct diagnosis.
---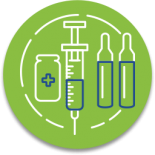 2)  Consider Various Treatment Options
– once you are sure about the diagnosis, it's time to research and explore all of your treatment options to alleviate the chronic pain.  There are often many different ways to treat the same condition. When it comes to musculoskeletal issues, the choice may come down to invasive treatments (like surgery or injections) or
non-invasive, non-surgical treatments
like those offered at Integrated Pain Solutions.
It is up to you to ask the provider about the short-term and long-term risks, benefits, and success rates of the specific treatment options that you are considering.   It is also important to understand if the treatment option is addressing the symptoms of the condition or the root cause of the problem.
Consider this: A surgeon looks at a medical condition through the eyes of a surgeon. You'll likely not find anyone better equipped to assess the pros and cons of treating the condition surgically.  But what about non-surgical treatments?  Is that same surgeon the best person analyze the pros and cons of other treatment options? Isn't that a bit like asking an electrician for his advice about plumbing?
You should also consider how long ago your diagnosis was made.  Are you aware of the latest advances in techniques and technology that impact your condition?
---
3)  Choose a Doctor You Trust
– finally, you should feel good about the person who you are trusting with your care.  Has the provider taken the time to listen to you and fully understand your condition? Is this provider looking below the surface to assess what is really going on?   Does the provider know what your goals are and what you value the most?
---
References:  (1) QuantialMD and Robert M. Wachter, MD (2011) Physician Perspectives on Preventing Diagnostic Errors. Owen W. MacDonald.  Referenced in "My Second Opinion" http://www.acatoday.org/content_css.cfm?CID=5145